googles loose women
What won't Google do? They have a new nifty map tool at
maps.google.com
. Not only can you search by address, you can search by phrase.
Below is an image of where Google Maps helped me find "loose women". Appearantly, loose women can be found at the "Independence Community College", "Bartlesville Public Library", and the "Delaware Indian Tribal Headquarters".
Oh Google. What will I do without you?
Here are some other fun ones to try.
"Mexicans" can be found at: Taco Bell (duh!), Lindo Mexico
"Mexican Basketball Association": Oklahoma Wesleyan University: Adult and Graduate Studies
"Jesus": Wow, he's everywhere
"Vegetarians": found at the Sirloin Stockade
Give it a try.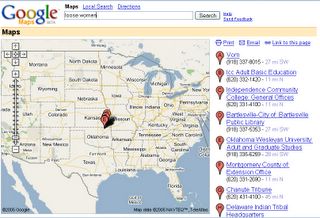 loose women found here