and now...other uses for KY Jelly
What are some alternative uses of KY Jelly other than rabid butt love? Here are some ideas:
Not recommended for crowd surfing at Bush concerts.
You rub it all over your body so when giant beetles and blood sucking monkeys attack you, you slip right off!!!
Applied to a beer-bong, eases insertion of the tube directly into the stomach.
Apply a small amount of K-Y Jelly to dental floss to remove unwanted hairs from the teeth.
Want
more
? Here's
more
.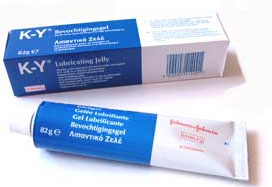 tastes better than vasoline