chat with god
I was always a bit agnostic because I get this feeling that God simply doesn't really pay much attention to me. I mean, when's the last time we have a meaningful conversation? I can't even remember when He miracled me up something really nice, like the 250 million dollar Megamillions ticket.
Of course, I realize it probably because I don't make the effort to rise out of bed every Sunday and go to church. Its a lot of work, and I'm quite lazy. Waiting in line for the confessional is like waiting to go use the port-o-potty at the carnival - there are lots of fun stuff around and you just want to get it done as quickly as possible, and hope the last person didn't leave a stink bomb.
Through the miracle of internet, someone has found a way to tap directly into God's computer. Meet the
iGod - repenting made easy
. I made my confession to please our lord. You should too.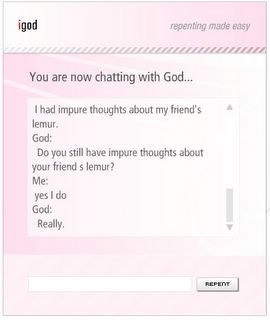 my private confession